Which Hip Implant Is Best For You?
Published on December 16, 2019 By admin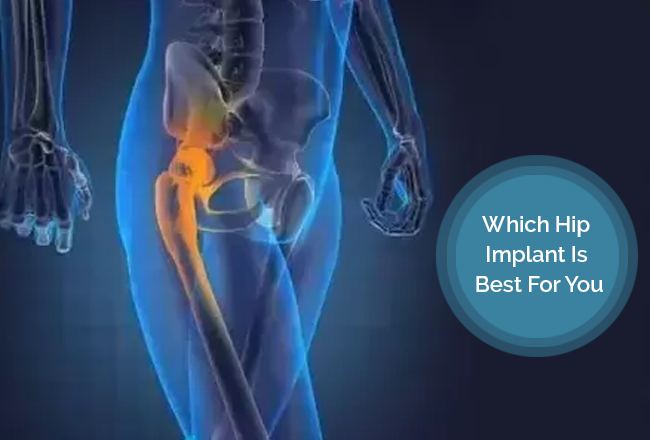 While exploring the treatment options for your painful hip joints, this blog will be a great help to you. It provides insights about hip replacement surgery and the different types of hip implant materials used.
Hip replacement surgery
Hip replacement surgery can be defined as a surgical procedure in which a doctor removes a painful hip joint and replaces it with an artificial joint often made from metal and plastic components. It is used as a last resort when other treatment options have failed. Due to the sea change in the technology and latest innovations the surgery now has reduced complications at the same time, the implant material used ensures its long term run.
Types of hip implant materials
Metal-on-Plastic (Polyethylene)
Metal-on-Plastic (Polyethylene) is considered as one of the oldest and the most tested bearing. Here, the convex femoral stem is constructed of metal and the concave cup liner is made of a plastic called polyethylene. However, in the later years, the makeup of the polyethylene improved and the plastic which is currently used in hip replacement implants is highly stable and reliable, thus reduces the risk of wear to a greater extent. Expert surgeons like Dr Vivek Mittal usually choose this implant over others due to its durability, performance and low cost.
Ceramic 
Yes, you heard right, ceramic is the material which is used to make plates, bowls and cups. But while making ceramic hips specialized and more durable versions of it is used. It is one of the most used implants during replacement surgery as it is both hard and durable.
The ceramic is used with the following combinations:
Ceramic on Ceramic (COC)
Ceramic on Polyethylene (COP)
Oxinium 
Oxidized Zirconium is a superior metal that is used in hip implants due to its hardness, smoothness and resistance to scratching and abrasion. It also exhibits superior performance characteristics over the alternative material options of cobalt chrome and ceramic. Doctors often recommend a lot of patients to undergo oxinium hip replacement in Delhi as the implant material is durable and ensure reliability and long term success.
Dual-mobility cups
Dual-mobility cups and triple-taper femoral stems, both were developed with an aim to provide long life to the replaced hip by reducing instability/dislocation and enabling enhanced fixation. Younger patients are generally excellent candidates for the same as it provides a superb range of motion which allows them to resume their daily activities hindered due to hip pain. This kind of implant provides an additional bearing surface, thus preventing dislocation or instability.
Best doctors like Dr Vivek Mittal, who is a leading name in the field of orthopaedics always prefer to choose the type of hip implant by measuring various factors which include the age of the patient, daily activity level, adversity of the damage to the joint and their overall health evaluation.
Some of the best orthopaedics and joint replacement clinics have an expert team of doctors who provides a specialised treatment with utmost accuracy, precision and safety. Apart from the surgical implant materials, there is a need to follow the precautionary measures advised by the doctor in the recovery process as it determines the reliability or long term success of replacement surgery.