Hip Replacement: What Leads To It And What Follows?
Published on February 12, 2020 By admin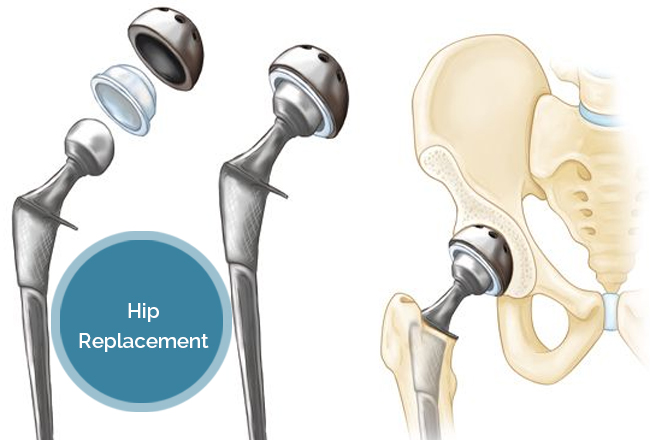 Hip replacement, as we all know, is an orthopaedic procedure that involves the removal of a diseased and damaged joint and supplanting it with a new prosthetic joint that has been designed in such a way that it replicates the structure and functions of the original joint. Performed at all the leading Orthopaedics and Joint replacement clinics, hip replacement is a very popular surgery with more than 70,000 procedures performed every year. The procedure is also known as hip arthroplasty.
Hip replacement is a treatment option for patients whose hip pain is interfering with their routine life and preventing them from carrying out their normal day to day activities. It is usually recommended by doctors when all other treatment options fail to give desired results. It is pertinent to note that while many people associate joint damage with old age, leading orthopaedic surgeons like Dr. Vivek Mittal suggest that age-related wear and tear is not the only reason responsible for it. In fact, joint damage can be a result of many factors that include:
Some underlying degenerative joint disease like osteoarthritis, rheumatoid arthritis and osteonecrosis.
An injury sustained in an accident
A severe blow to the hip joint
However, before hip replacement is recommended, doctors initially resort to medication, exercises, physiotherapy and walking aids. Hip Replacement Surgery is usually the last resort of treatment when all non-invasive treatment options fail to give the desired relief and you are experiencing any of the following problems:
Unbearable pain even on medications
Limited mobility due to pain that aggravates with motion
Experiencing pain and discomfort even while lying down or sleeping
Inability to climb up the stairs or while coming down
Difficulty with standing and sitting, be it with or without support.
How to know whether you need surgery or not?
Whether you need a Hip replacement surgery or not is a collective decision by you, based on your difficulties and by your doctor, after thoroughly evaluating your overall health and your joint condition. For this, you will be asked to undergo a series of tests and screenings which include:
Physical examination
Study of medical history
X-Rays
Magnetic Resonance Imaging (MRI)
In case you want to assure your diagnosis, you can always take a second opinion from experts like Dr. Vivek Mittal.
What to expect after the surgery?
Right after the surgery, you will be shifted to the ICU where you will be monitored for at least 24 hours. After gaining consciousness, you will be taken to your ward where trained nurses and staff will ensure your safety and well-being till the time you are discharged. Your doctor will give you a set of guidelines that are to be followed religiously. Patients are usually discharged within a week after making sure that they are fit enough. If your doctor feels otherwise, you might be recommended to go to a rehabilitation centre where your physical training will be continued. People undergoing polythene, dual mobility cup and Oxinium Hip Replacement in Delhi show considerably higher rates of improvement in a very short span of time. While other implants also give commendable results, these two are considered to be gold standard options for patients planning to undergo a hip replacement.
Although hip replacement surgery is performed to improve the quality of life, it should be noted that the patient will not return back to his/her normal lifestyle right after the surgery. You will have to be patient as it may take about a few months to heal completely, but surely the outcome is worth the wait as the surgery will help to
Get rid of the persistent pain and discomfort
Enhance joint mobility and flexibility
Enjoy life without being dependent on others